Disclosure: This page contains affiliate links meaning that if you click through and make a purchase, I may receive a commission, at no additional cost to you.
Welcome to my author resources page. This is where I share author resources I've used myself, or that I've checked out and highly recommend. Enjoy!
$5 Book Trailers
$5 HD Book Trailers – How do you successfully advertise 1,000 pages of written text to the public audience? The giant haystack of books available online means that good writers don't always get noticed. A book trailer is a brilliant way to bring your story to life and provide a taste of what readers will experience when engrossed in your novel.
For only $5 you will get:
30 secs to 1 minute video in high resolution
6 to 8 sentences of text
Royalty-free music
5x revisions
Get production started on your book trailer now by clicking here.
Female Voice Over for Audiobook Narration
Female Voice Over for Audiobook Narration – Professional female voice over artist who has worked for many corporate and entertainment clients around the world including audiobooks.
What you'll get:
Consultation about your project
Fast turnaround (normally a day)
Same day turnaround available (please ask!)
Demo on ALL booked gigs
Broadcast ready files
Pick ups (up to 7 days post delivery)
Revisions (available)
Live direction while patched into my studio
Bring a new audience to your work with an audiobook by clicking here.
Book Promotion
Book Promotion – You will get one post of your publication on 4 unique book blogs all on different days. Plus they share each one of their posts across our social media which includes Facebook, Twitter and Pintrest. Your total reach for each post will be approximately 70,000+
They have been building their audience for 10+ years. This is a very popular service so make sure to ask if your book needs to be shared by a certain day. They will get your book in front of a lot of eyes.
Get started on your book promotion now by clicking here.
$5 Professional Book Covers
$5 Professional Book Covers – Rebeca is a creative cover designer with more than 5 years of experience. Client satisfaction and high quality work are her main priorities.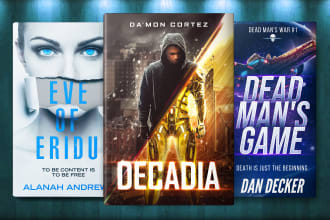 For only $5 you will get:
Professional and Creative Design
100% Satisfaction Guarantee
Free UNLIMITED REVISIONS within the Package
100% MONEY-BACK GUARANTEE
Standard 3D Cover Mockup for Free
LICENSED STOCK Images Used
Friendly support
Get your professional book cover by clicking here.
Male Voice Over for Audiobook Narration
Voice Over Actor for Audiobook Narration – Voice over actor. British / American / Australian / Scottish / Northern British (Jon Snow, Sean Bean) / Cockney (London) / Birmingham (Brummie, Peaky Blinders) / Regional British accents / and others.
Starting at $10, voices include – American Hero / British detective / Anime fighter / Dungeon master / Teen anime protagonist / Scary level boss / Freaky ghosts / Corporate / Android / Wizard / Scaredy cat / Emotional lover / Awful 90s video game voice acting / Northern British warrior / Surfer dude / Creepy guy / Chad / Geek / Russian mobster / Silly voices / He can do pretty much whatever you'd like, just try him.
Bring a new audience to your work with an audiobook by clicking here.
Proofreading and Editing
Proofreading and Editing –  You've put blood, sweat and tears into it, and it's brilliant. But is it perfect? 100 percent? With an eagle eye he'll look at it afresh and thoroughly correct all errors in spelling, grammar and punctuation. Yes. All of them. 100 percent. Any awkward phrases will also be tweaked to improve flow and readability (but it will still be your voice, your style, your work. 100 percent).
You want value for money? Good. That's what you'll get from him. 100 percent. He'll send you 2 documents:
1. The amended version, with TRACK CHANGES pinpointing all amendments.
(For the first 5 pages I will also show your original, with "errors" highlighted).
2. The CLEAN version, clutter-free, ready to go.
If you're still reading this, you're the kind of writer who'll be satisfied with nothing less than 100 percent. Good. Tell him exactly what you want. Satisfaction guaranteed.
Get your work proofread and edit by clicking here.
Print Book Formatting
Print Booking Formatting for KDP or other print company – Would you like your book to look more professional? Do you need your book formatted for selling? They will add a table of contents, make it look professional, check every page manually and add page numbers. And this is just the beginning!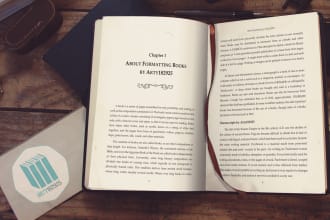 Starting at $5, the table of contents, headers, footers, and index (only if needed) are also included. Fast deliveries are also available and they can deliver 25 pages in less then 24 hours.
Get formatting started on your print book now by clicking here.
Join My Mailing List
Join my mailing list – so you never miss another great publishing resource! You'll also receive notifications when I release new books, hold contests plus anything else I think you'll be interested in. You can sign up or unsubscribe at anytime, and I'll never share your information or spam you.
Take care everyone!
Let's connect...